CNA job in Lake Mills, Wisconsin | $19.36/hr | Assisted Living
Estimated total pay
$154.88
Description
Front entry is locked, please ring doorbell. You will complete covid screening questions and have temp taken prior to entry. Please text 920-988-8803 with any issues.
Facility name
Brook Gardens Place
Facility address
300 O'Neil St, Lake Mills, WI 53551, Lake Mills, WI, 53551
Facility number of beds
26
This job has been filled and is no longer available.
Things move fast around here. Here are some similar jobs that are close to you
Shifts (1)
Sep 23rd 2021
06:00 - 14:00
More CNA Jobs Near Lake Mills, WI
RNs, LPNs, and CNAs Enjoy Working Per Diem in Wisconsin
Everyone knows that Wisconsin knows cheese. In fact, the state is peppered with dairy farms and cheese factories all around that serve as an enjoyable and tasty diversion for Wisconsin residents in their downtime.
Nevertheless, this beautiful state offers its resident clinicians and travel nurses so much more than tasty cheeses. Registered nurses (RNs), licensed practical nurses (LPNs), and certified nursing assistants (CNAs) can pick up per diem jobs in Wisconsin by using our sleek per diem mobile app, Nursa™.
Nurses Enjoy Life in Wisconsin Even When They Aren't Working
Travel nurses and resident clinicians love working here, not only because they're securing high-paying jobs in the state of Wisconsin, but because year-round there's something to see, something to do, or something to savor. Here's a look at some of Wisconsin's major attractions:
What Wisconsin Residents Do in their Down-time
Other common hobbies and free-time activities include taking advantage of Wisconsin's winter powder by engaging in all types of winter sports you can think of (maybe a few you hadn't thought of as well). Moreover, in case the cold gets to you in those long winter months, you'll be delighted at the indoor waterparks dispersed throughout the state just waiting to warm you up and let you play in the water as if it were summer.
Snowboarding
Skiing
Snowmobiling
Tubing
Waterparks
Kayaking
Hiking
Festivals
Nursa™ Changes the Game for PRN Clinicians
If you're wondering "what is PRN?" the answer is short and sweet. The term PRN is a medical abbreviation that means working on-demand or as needed. Nurses who work PRN fill shift gaps and worker vacancies to ensure patient care isn't compromised when a facility struggles with staffing.
Previously, nurses or nursing assistants have to apply to multiple places or contact multiple agencies to get themselves hired on as PRN staff or placed on a list. Nursa™ has changed the business by connecting to facilities of diverse medical settings everywhere and posting their jobs in real-time for its registered users to peruse and contract within the PRN nurse app.
Register an account, build your professional profile, and browse PRN shifts for RNs, LPNs, and CNAs at facilities near you. If you've never considered working PRN jobs before, read all about the benefits of PRN work and how you can incorporate it into your career in our post, "Advance Your Nursing Career by Picking Up PRN RN Jobs Nearby".
Learn Why Nurses & CNAs Choose to Work in Assisted Living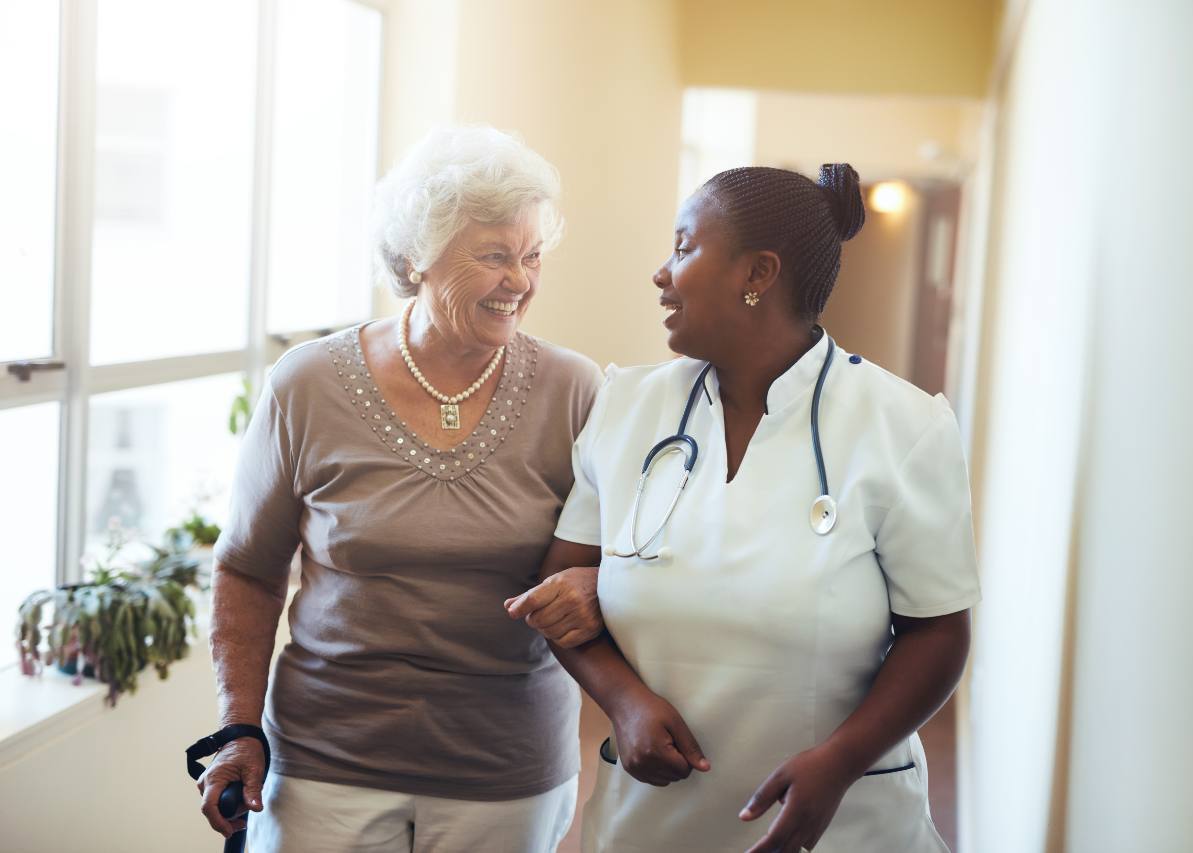 Assisted living facilities are long-term care centers for elderly individuals or patients with disabilities. As the name implies, assisted-living facilities are appropriate only for those people who require a minimal amount of assistance with their activities of daily living (ADLs).
Assisted living is a long-term care option that can help the elderly during their transition to a new phase in life in which they require help with the management of their personal health and/or ADLs.
Nurses, both registered nurses (RNs) and licensed practical nurses (LPNs), certified nursing assistants (CNAs), and other healthcare professionals provide 24-hour supervision in assisted living facilities and various levels of personal and medical services for residents.
As the baby boomer population continues to age, the demand for more long-term facilities continues to grow. As a result, many assisted living facilities are dealing with staffing shortages and increasingly turning to nurse staffing solutions to fill those workplace shortages with PRN nursing jobs.
Where Does an Assisted Living Nurse or CNA Work?
Assisted living facilities (ALFs), are one of the fastest-growing housing options for senior citizens in the United States. These healthcare facilities can be standalone units that only house residents who require a minimal level of assistance, or, these places are units connected to entire complexes that are either long-term care facilities, hospitals, or other healthcare centers.
What Does an Assisted Living Nurse Do?
Nursing homes and hospitals provide higher acuity levels of care than what you find in an assisted living facility. Nurses and CNAs who pick up PRN jobs in assisted living settings help with a variety of activities, including:
Personal care activities, such as dressing or bathing
Medication administration and management
Memory care routines that can provide individualized treatment for patients with Alzheimer's Disease, dementia, or other related illnesses
General assistance during meals and social activities
Exercise opportunities and general wellness programs
Physical or occupational therapy exercises and activities
Communication with family members to address the resident's evolving level of needs and to keep them informed of any emergencies
Essential Qualities of a Successful Assisted Living Nurse
Nurses who work in assisted living facilities spend a lot of time working with people of the geriatric population. In order to provide the best quality of care to these patients, a nurse must be very empathetic and passionate with the elderly. Patience is a virtue when working with this population, although as a nurse or CNA in this specialty, that is not always an option. Therefore, nurses who work in assisted living must be able to roll with the punches and work well independently.
Recommended Certifications for Assisted Living Nurses
Registered nurses serious about a career in assisted living may look at furthering their education in this nursing specialty. If this is you, there is a National Assisted Living Manager Certification Course (NALMCC) provided by the American Caregiver Association that can help you prove your dedication to knowledge in the field and can give you a competitive edge in your professional portfolio with Nursa™. Additionally, most hospitals and surgery centers require a BLS (Basic Life Support) certification. Other certifications may be required or shown preference.