CNA job in Taylorsville, Utah | $20.64/hr | Assisted Living
Estimated total pay
$165.12
Description
Legacy House is looking for qualified CNA's
Facility name
Legacy House Taylorsville
Facility address
6302 S. Gold Medal Drive, Taylorsville, UT, 84129
This job has been filled and is no longer available.
Things move fast around here. Here are some similar jobs that are close to you
Shifts (1)
Jul 31st 2021
23:00 - 07:00
More CNA Jobs Near Taylorsville, UT
CNA job in Logan, Utah | $21.94/hr | Long Term Care
Logan, UT
CNA with LTC | Long Term Care certification needed to fill a 8/hr shift on Sep 28thfrom 06:00 - 14:00 . This job is at Rocky Mtn. Care of Logan at 1480 N 400 E - Logan, UT, 84341. this Per Diem shift pays $21.94/hr for a total of $175.50.
CNA job in Heber City, Utah | $21.80/hr | Long Term Care
Heber City, UT
CNA with LTC | Long Term Care certification needed to fill a 12/hr shift on Sep 28thfrom 06:00 - 18:00 . This job is at Rocky Mtn. Care of Heber - the Lodge at 544 E 1200 S - Heber City, UT, 84032. this Per Diem shift pays $21.80/hr for a total of $261.63.
CNA job in Heber City, Utah | $21.80/hr | Long Term Care
Heber City, UT
CNA with LTC | Long Term Care certification needed to fill a 12/hr shift on Sep 28thfrom 06:00 - 18:00 . This job is at Rocky Mtn. Care of Heber - the Lodge at 544 E 1200 S - Heber City, UT, 84032. this Per Diem shift pays $21.80/hr for a total of $261.60.
CNA job in Heber City, Utah | $21.80/hr | Long Term Care
Heber City, UT
CNA with LTC | Long Term Care certification needed to fill a 12/hr shift on Sep 28thfrom 06:00 - 18:00 . This job is at Rocky Mtn. Care of Heber - the Lodge at 544 E 1200 S - Heber City, UT, 84032. this Per Diem shift pays $21.80/hr for a total of $261.60.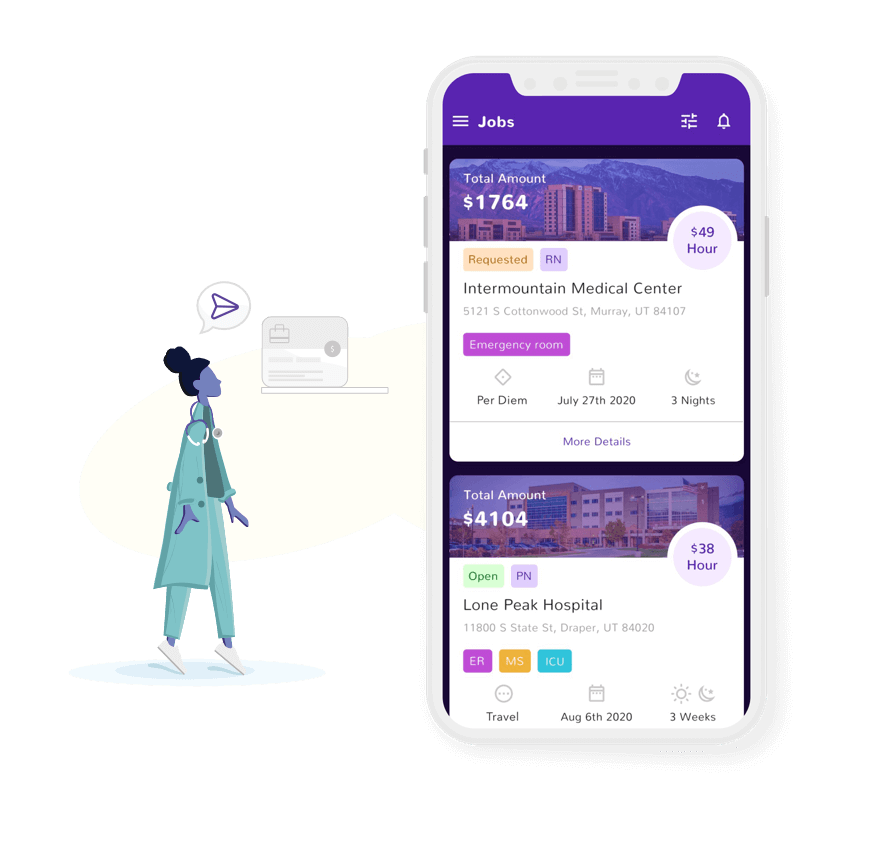 Nursa™ Connects RNs, LPNs, and CNAs to Jobs in Utah
Nurses and assistants who live or work in the state should have direct access to local part-time and per diem jobs in Utah. Healthcare facilities with desperate staffing needs should have a quick and simple way to access the per diem RNs, LPNs, and CNAs they need to fill these vacant nursing shifts. A nurse staffing solution is needed that puts PRN nursing jobs in front of the eyes of willing medical professionals in the local community ready to take on the work.
Nursa™ is that connection. Healthcare facilities in Utah post high-paying RN, LPN, and CNA jobs. Native and local travel nurses and assistants looking to help the community and make great money while they're at it pick up these shifts right from the palm of their hand using our nurse agency app.
Simplify Your Life. Use Nursa™ to Find CNA, LPN, and RN Jobs
Nursa™ is not a typical travel nurse agency. Nursa™ is the future of nurse staffing and a transparent solution that puts the right nurses in the places – at the right times.
Our recruiters, team members, and support staff are here to help you make it through each shift. Medical professionals are empowered with Nursa™ to advance their healthcare careers and pick up jobs directly from employers within the nursing agency app.
Clinicians appreciate the transparency provided by our PRN nurse app which allows you to see real jobs for registered nurses (RNs), licensed practical nurses (LPNs), and certified nursing assistants (CNAs) in real-time. Talk directly with employers using the chat interface and get the information you need on part-time and PRN nursing shifts. Click here to learn the difference between part-time and PRN nursing.
Upload and verify your nursing license, any specialization or training certificates, and share them securely and directly with potential employers within the secure digital portfolio. Nursa™ is well-established among the medical facility community in Utah. Want to learn more about our nurse agency app? Visit our About Us Page.
A Little History Behind the State of Utah
Hard work. Harmony. Order. Utah's nickname the "Beehive State" stands for these core principles. In 1847, settlers in the Salt Lake Valley selected the beehive as a symbol of the community effort of harmony, hard work, and order that would be required to produce sweet results of a flourishing life. Many Utahns today may not know the history of the symbol of the beehive, but it fits, nonetheless. These values have helped make Utah the inviting and prosperous place it is today.
Medical Professionals Love Life in Utah: Here's Why
Thriving towns. Beautiful landscapes. Bustling cities. Happy friendly communities. Utah has many different great places to live and work. These communities and cities have employment opportunities for medical professionals.
Utah is safe. Utah has a very low violent crime rate and the third-lowest poverty rate among the other United States. Medical professionals feel safe living and working in Utah communities.
Utah outdoors is fun and gorgeous. This state is home to five national parks where the opportunities for hiking, horseback riding, biking, and kayaking abound. Explore the Arches National Park that boasts awe-inspiring arches of Moab or the red rock and lush forest of Bryce Canyon National Park.
If you pick up a job in Utah during the wintertime, spend your downtime outdoors! An average 48-inches of snow per year blankets this beautiful state. Skiing. Snowboarding. Snowshoeing. These activities will become part of your winter weekend adventures if you pick up a nursing job in Utah.
Employment in Utah is secure. Utah statistically has a lower unemployment rate than the national average. Utah has risen in status over the years to be a state known for attracting young professionals, also in creative professions. It is home to the world-renown independent film festival, the Sundance Film Festival. It's this reason that so many RNs, LPNs, and CNAs find high-paying jobs in this state.
Utah Has Public Transportation. Utah has commuter train services, buses, and an ever-expanding light rail system. Get to work or other cities easily. During ski season, special ski buses run routes to all four of the Salt Lake resorts, Powder Mountain, and Snowbasin.
Utah Taxes Aren't Tricky. Local travel and per diem nurses can easily get anxiety worrying about loopholes and thresholds when it comes to tax considerations. Not in Utah. Utah taxes are easily understood because they are a flat-tax state. That means that no matter your income, your tax rates will be the same as everyone else's. No thresholds. No increased tax rate because you make more money. Property taxes are low. Estate taxes are non-existent. Simplicity helps make PRN or local travel nurse tax considerations seem much less overwhelming in Utah.
Find CNA, LPN, and RN Jobs Near You with Nursa™
Nursa™ helps you find high-paying RN, LPN, and CNA jobs in Utah close to you. Nursa™ connects RNs, LPNs, and CNAs to clinical jobs in real-time. Once you've registered, created a professional profile, and verified your license and certifications in your secure professional portfolio, you can search through job postings that are available in real-time.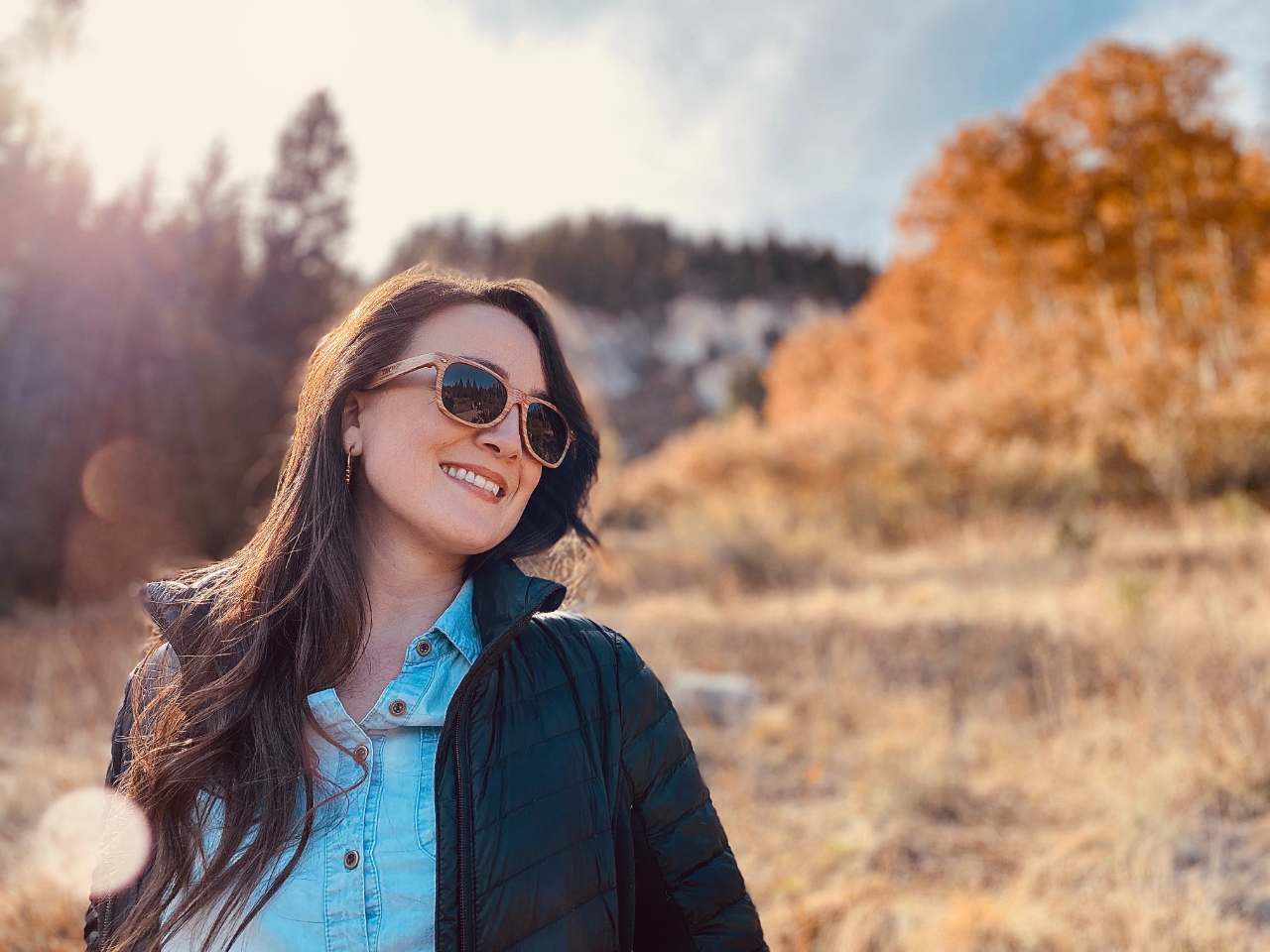 Are you looking for 8-hour shifts? 12-hour shifts? Create your own work schedule that fits the demands of your busy life with our nurse agency app. Whether you are looking to supplement your full-time job with some additional per diem nursing shifts or create a full-time career out of PRN nursing, both are within your grasp with Nursa™. Advance your nursing career today.
THE ULTIMATE GUIDE TO NURSING IN ASSISTED LIVING FACILITIES
You might have never considered working in assisted living; however, this nursing specialty is more relevant now than ever before, and its significance will only continue to grow. In the United States, the population aged sixty-five or older will soon outnumber children for the first time in US history. Who will care for this population when they can no longer live independently? Sure, many will live with family and friends, but many simply won't have that option or will prefer not to depend on loved ones for their care. For this growing segment of the population, assisted living facilities offer the ideal balance between autonomy and safety, encouraging residents to live as independently as they can while still assisting with all other daily activities that residents can no longer carry out on their own.
Whether you are a new nurse trying to decide on a career path after graduation or an experienced nurse ready for a change of pace and scenery, this guide covers everything you need to know about assisted living nursing.
Table of Contents
What Does AL Stand For?
The abbreviation AL stands for assisted living; similarly, ALF stands for assisted living facility. Assisted living refers to services offered to people who need help with daily care, although not as much as the care required by people living in nursing homes. Since residents are relatively independent, they often live in their own apartments or rooms and share common areas.
According to the National Center for Assisted Living, there are currently 28,900 assisted living facilities throughout the United States, with nearly one million beds combined. Some of these facilities are privately owned, but most are part of national chains.
Although ALF logistics vary by state and even by facility, in general terms, these facilities house from fewer than ten to over one hundred residents and offer a variety of services, including the following:
Meals
Housekeeping and laundry
Assistance with personal care, such as bathing and dressing
Medication management
Around-the-clock supervision and emergency care
Some medical services
Social and recreational activities
Exercise and wellness programs
What Does Assisted Living Mean in Medical Terms?
By definition, assisted living refers to helping people with basic activities of daily living (BADL), such as personal hygiene, dressing, going to the toilet, transferring or moving about, and eating, as well as instrumental activities of daily living (IADL), such as managing finances, taking medications, preparing food, housekeeping, and doing laundry. However, most assisted living facilities also offer basic healthcare services.
83.6% have access to a pharmacy.
82.8% offer dietary and nutritional guidance.
71.4% provide physical, occupational, or speech therapy.
67.7% include hospice care.
66.1% provide skilled nursing care.
55% offer mental health services.
Approximately 14% have special memory units.
8.7% specialize in dementia patients.
A small percentage are geared towards people with intellectual or developmental disabilities or specialize in particular medical conditions.
What Is an Assisted Living Unit in a Hospital?
Assisted living facilities are separate from hospitals. When residents require medical attention beyond the scope of the attention provided by AL nurses, they are transferred to hospitals. Residents often return to ALF when their acute health concerns are resolved; however, in other cases, residents' medical needs after a hospital transfer surpass the services that ALFs offer, so they must transfer to a nursing home or must remain in the hospital setting.
What Does a Nurse Do in an Assisted Living Facility?
Assisted living facilities often have multiple nursing professionals working under one roof, including registered nurses (RNs), licensed practical nurses (LPNs), certified nursing assistants (CNAs), and even nurse practitioners (NPs). Nurses help promote residents' health and wellness and optimize function and infection control. Nurses may also be responsible for assessing potential new residents to determine whether their needs align with the services that assisted living facilities offer. However, each of these assisted living healthcare workers also has particular duties.
What Is the Role of a Registered Nurse in an Assisted Living Facility?
Registered nurses at assisted living facilities often work as head nurses or directors of nursing. Here are some of the responsibilities of a registered nurse at an assisted living facility:
Supervising LPNs and CNAs
Organizing work schedules and assigning tasks
Managing resident care, including creating care plans, administering medication, preparing IVs, drawing blood, giving injections, and monitoring vital signs
Monitoring residents and assessing the effectiveness of care plans
Communicating with residents' families
What Is the Role of LPNs and CNAs in an Assisted Living Facility?
Under the supervision of physicians and RNs, LPNs monitor patients, update health records, and administer first aid. In addition to RNs, LPNs also help supervise CNAs, who in turn assist patients with daily living tasks and provide basic care.
How to Become an Assisted Living Nurse
Becoming an assisted living nurse simply requires an LPN or RN license and, in most cases, a basic life support (BLS) certification. However, a greater percentage of healthcare workers in the assisted living setting are CNAs. According to the U.S. Bureau of Labor Statistics, 15.8% of all CNAs work in assisted living, whereas only 5.07% of LPNs work in this setting, and only 6% of RNs work in nursing and residential care facilities combined. Furthermore, the number of nurse partitioners in this setting is even lower.
That said, the more experience and knowledge a nurse acquires, the better they will perform in an assisted living nurse role. Nurses who work or wish to work in this setting should stay up to date on the best gerontological nursing practices, assisted living nursing administrative practices, health promotion and disease prevention, and infectious disease management.
How Long Does It Take to Become an Assisted Living Nurse?
Becoming an assisted living nurse could take as little as one year through an LPN program or two to four years through an RN program. Additional training and certifications could take as little as a day or as long as several years of specific work experience and continuing education.
New nurses interested in assisted living would benefit from accepting a position in an assisted living facility straight out of school and pursuing a certification after a minimum of two years of work experience. Aside from most certifications requiring work experience, employers will often cover part or all of the certification costs.
What Is Assisted Living Nursing Like?
One way to visualize assisted living nursing is to understand residents' average needs and overall profiles.
On average, residents require assistance with 2.8 daily living activities.
50–75% of residents need assistance with medication management.
ALF residents are less likely to need assistance with eating, transferring, and going to the toilet than nursing home residents. However, they are likely to need help with bathing and dressing.
17% of residents are in good physical health but suffer from cognitive impairment.
9% suffer from chronic illnesses which compromise their ability to function.
14% are impaired in more than one way.
66-81% of residents have dementia, depression, or other mental illnesses.
45% are not impaired in any way.
Residents live approximately two years in ALFs. 35% of residents will move on to nursing homes, 15% will transfer to hospitals and not return, and 28% will die after this time.
Is Nursing in an Assisted Living Facility Hard?
Each type of healthcare facility has different challenges. One challenge that is particularly notorious in assisted living is understaffing. Over half of assisted living facilities have reported a deterioration in their workforce situation since 2020. 81% of assisted living facilities have recently experienced staffing shortages, and over half of facilities are actively recruiting personnel, including CNAs, LPNs, RNs, dietary staff, and housekeeping staff.
However, this challenge can also be seen as an advantage since finding employment in assisted living should be relatively easy for nurses and nursing assistants. One excellent way to work in this setting while maintaining a flexible schedule and earning higher-than-average pay is to work per diem. Through a per diem staffing app, nurses can request shifts in different assisted living facilities to help them decide if this nursing role is right for them.
Why Choose Assisted Living Nursing
Although working in assisted living has its challenges, it also has many advantages for nurses.
Job security: There is such high demand for assisted living nurses that these healthcare professionals are sure to find work quickly. Furthermore, with an aging US population, this demand will only increase.
Autonomy: Assisted living nurses are more autonomous than acute care nurses. In fact, RNs are usually the highest medical authority in these facilities.
Relationships: As opposed to hospitals and outpatient care facilities where patients come and go, in assisted living facilities, nurses interact with the same residents every day, allowing them to build close relationships with them. Nurses will also be able to develop closer bonds with coworkers whom they work with much more closely than they would in other healthcare settings.
Routines: Work is much less chaotic in assisted living than in other healthcare settings. Nurses can carve out effective routines and follow them day after day.
Fulfillment: Nurses in assisted living can significantly contribute to the residents' overall wellbeing, and seeing residents thrive under their care can be very fulfilling.
What Makes a Good Assisted Living Nurse?
Certainly, the more nursing experience and knowledge assisted living nurses have, the better they will perform in their chosen field. That said, there are many non-medical skills that AL nurses should also develop to be truly exceptional. Here are some tips for new nurses to excel in the assisted living setting.
Develop social skills: Remember that nurses will see the same residents day in and day out for approximately two years. Spending time talking to residents and getting to know them will not only help nurses make better decisions regarding residents' healthcare but also improve residents' quality of life significantly. In order to strengthen nurse-resident relationships, nurses should strive to develop patience and compassion.
Hone your communication skills: Nursing always involves a complex web of communication. Nurses must communicate with patients, their families, and other healthcare team members. Furthermore, nurses in assisted living facilities are usually the team leaders, making them primarily responsible for effective communication among all the actors involved in residents' care.
Perfect organizational skills: With all the residents and staff members that nurses need to supervise and with the numerous responsibilities they have on their plates, assisted living nurses must have strong organizational skills. A single RN could create and manage all patients' care programs, plan schedules for and supervise other nurses and CNAs, and coordinate with other staff, hospitals, and family members, among other duties. The only way to stay afloat is to master organizational skills.
Stay positive and encourage residents: Many myths about aging negatively affect seniors' outlook and quality of life. Suppose nurses bust these myths and share evidence-based information about aging with residents. In that case, residents' could feel significantly more confident in their abilities to take care of themselves and make their own decisions regarding their care. This confidence and autonomy will improve residents' mental health and overall quality of life.
Is Assisted Living Nursing for You?
Now that all your questions about assisted living have been answered, you are better prepared to decide whether you want to pursue a career in this nursing specialty. If you are still undecided, continue learning about other nursing specialties and remember that working per diem is an excellent way to obtain hands-on experience in different nursing settings.