CNA job job in Fountain Hills, Arizona | $23.63/hr | Skilled Nursing
Estimated total pay
$283.56
Description
Nursa is looking for CNAs to fill shifts in Fountain Hills, AZ. We have multiple shift to choose from including day, night, weekend and noc shifts. Choose the shifts you want and set your own schedule.
Everyday, facilities post their unscheduled shifts to the Nursa marketplace. Once you have registered and your license verified, you will be able to request shifts that fit your schedule. Pick up as many or as few shifts as you want.
Facility name
Fountain Hills Post Acute
Facility address
16300 Keith McMahan Dr, Fountain Hills, AZ, 85268
Facility number of beds
64
This job has been filled and is no longer available.
Things move fast around here. Here are some similar jobs that are close to you
Shifts (1)
Dec 11th 2021
06:00 - 18:00
More CNA Jobs Near Fountain Hills, AZ
Learn Why CNAs, LPNs, & RNs Like Working in Texas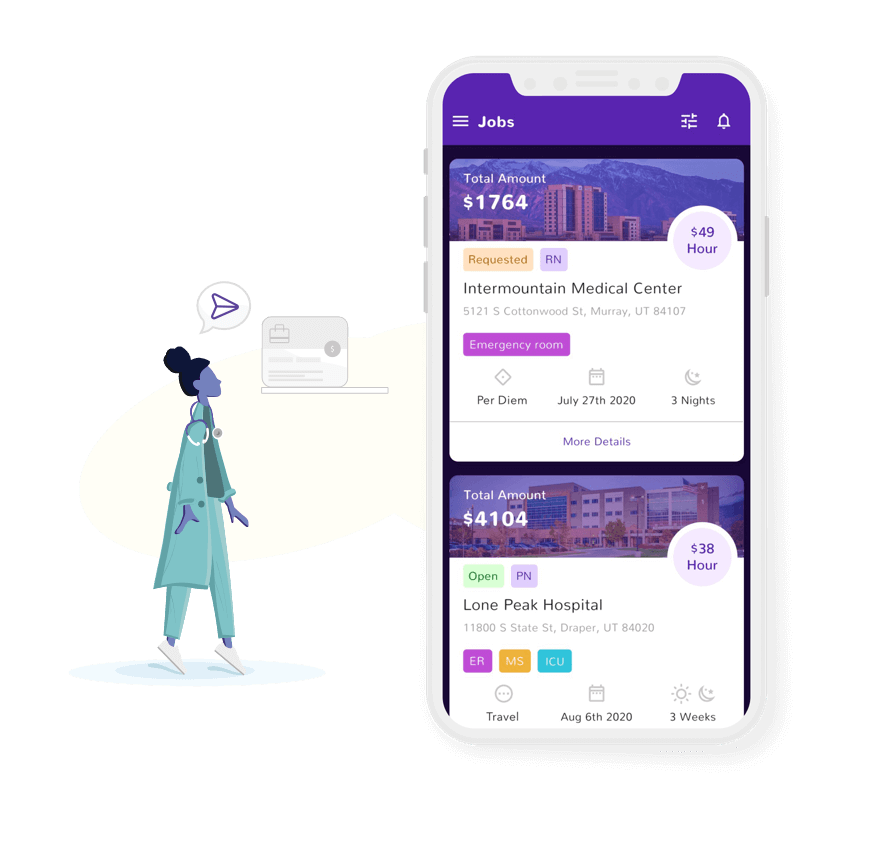 We're Nursa™, and we connect resident clinicians to PRN jobs for nurses at facilities across the state. Our per diem app allows registered nurses (RNs), licensed practical nurses (LPNs), and certified nursing assistants (CNAs) the benefit of finding, applying, and landing nursing jobs near you, at the touch of their fingertips.
PRN is the medical abbreviation for per diem, also referred to as on-demand. Nursing shortages are a fact of life and so hospitals, long-term care facilities, and other medical settings rely on Nursa™ to connect them to hardworking medical professionals who are willing to work at high-paying hourly wages to cover shifts.
With Nursa™, you can be done with the lackluster google results for "RN, LPN, and CNA jobs near me". Register with us, create your digital professional portfolio, and browse all our CNA, LPN, and RN jobs in Arizona, and apply for those jobs directly within the app. You can do it all; you can do it today.
Arizona Activities that Our Resident Clinicians Enjoy
Arizona cities such as Phoenix, Scottsdale, and Tuscon are bustling and vibrant cities offering all the comforts that you'd expect of any major big city. Culture, arts, music, shopping, spas, museums, and excellent dining. However common outdoor activities to beat the heat are numerous as well:
Hiking
Horseback Riding
Rock Climbing
Whitewater Rafting
Golfing
Big attractions for residents and tourists alike include:
Apply for PRN CNA, LPN, & RN Jobs Today with Nursa™
We've made it simple for you to grow your career, take control over your life, and earn more in the nursing industry. The potential is in you, and the opportunity available with us. If you want to learn more about the benefits that come with PRN work, read our article, "What is a PRN Nurse? Benefits of Working Per Diem Shifts" and join Nursa™ today.