CNA job in Wheat Ridge, Colorado | $24.75/hr | Skilled Nursing
Estimated total pay
$297.00
Description
CNA As a CNA with Vivage Senior Living, the primary responsibility of your job position is to provide each of your assigned residents with routine daily nursing care and services following the current federal, state and local standards, guidelines and regulations that govern long term care and assisted living facilities The Health department has come out with some new information regarding testing. As of June 1st, 2021, we will not require weekly testing for those who have been fully vaccinated. This means if your staff have proof of being fully vaccinated they do not need to show proof of a test within the last 7 days. They DO NOT need to test routinely. If they are not fully vaccinated they will still need to provide a weekly test to work in our building. BACKGROUND CHECK REQUIRED!
Facility name
Christopher House Rehabilitation and Care Community
Facility address
6270 W 38th Ave, Wheat Ridge, CO, 80033-5056
Facility number of beds
72
This job has been filled and is no longer available.
Things move fast around here. Here are some similar jobs that are close to you
Shifts (1)
Jul 31st 2021
06:30 - 18:30
More CNA Jobs Near Wheat Ridge, CO
CNA job in Boulder, Colorado | $22.45/hr | Long Term Care, BEHAVIORAL HEALTH
Boulder, CO
CNA with LTC | Long Term Care, BEHAVIORAL | BEHAVIORAL HEALTH certification needed to fill a 12/hr shift on Oct 3rdfrom 06:00 - 18:00 . This job is at Mesa Vista of Boulder at 2121 Mesa Dr - Boulder, CO, 80304-3621. this Per Diem shift pays $22.45/hr for a total of $269.40.
CNA job in Boulder, Colorado | $22.45/hr | Long Term Care, BEHAVIORAL HEALTH
Boulder, CO
CNA with LTC | Long Term Care, BEHAVIORAL | BEHAVIORAL HEALTH certification needed to fill a 12/hr shift on Oct 3rdfrom 06:00 - 18:00 . This job is at Mesa Vista of Boulder at 2121 Mesa Dr - Boulder, CO, 80304-3621. this Per Diem shift pays $22.45/hr for a total of $269.40.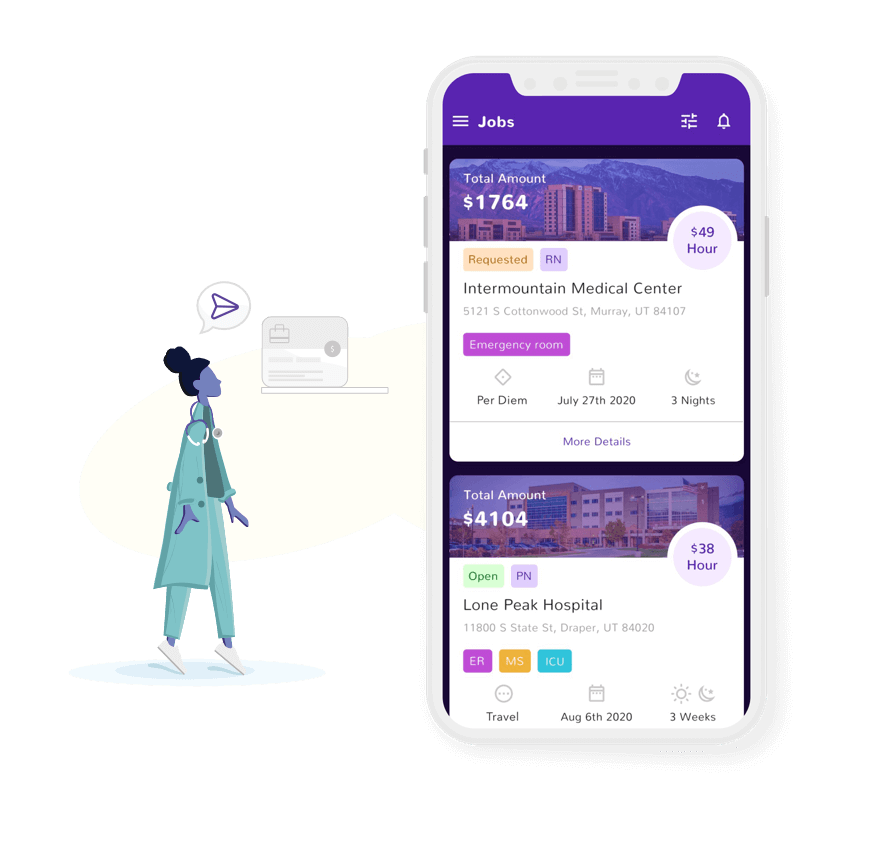 PRN Jobs in the State of Colorado for On-Demand Nurses Nearby
Living and working in Colorado affords you a great many ways to have a wonderful life, provided you can find steady employment. If you're a registered nurse (RN), licensed practical nurse (LPN), or certified nursing assistant (CNA), then download our PRN nursing agency app, Nursa™, to help you find PRN jobs at facilities near you.
Working per diem means working on-demand which will give you the control to plan your career around your life instead of the other way around. Learn more about how working PRN shifts can build your career, here.
Ski Resorts Aren't the Only Reason Nurses Love Colorado
Sure Colorado has a reputation as a prime playground for snow sport lovers; Breckenridge, Vail, Aspen, Keystone just to name a few of the most famous resorts. But there's so much more to do in Colorado than skiing and snowboarding in the winter months.
Other popular activities for residents and clinicians year-round include:
Hiking
Mountain Biking
White Water Rafting
Camping
Historic Sites
Breweries and distilleries
Dogsledding
Horseback Riding
National Forests and the Rocky Mountains cover most of the state providing a stunning vistas and beautiful backdrops for the state's other exciting attractions:
Colorado PRN Nursing Jobs Found and Landed Simply with Nursa™
Land RN, LPN, and CNA jobs in Colorado, and do it all with the per diem mobile app created by Nursa™. Nursa™ has changed the way the PRN game has been played by streamlining the formerly laborious process.
Your license, certifications, and compliance documents are all securely stored in a digital professional portfolio within the app. Once you've compiled these documents, and verified your license, you are free to browse RN, LPN, and CNA jobs near you. You'll find we have PRN shifts from the high altitude urban center of Denver, to the more rural towns peppering the national forests of the state.
Select a PRN shift that fits your schedule and location wishes and submit directly your portfolio to apply. Moreover, questions can be asked and answered all within the chat interface of the app. The entire process from A to Z can be completed in one app on your smartphone.
Learn Why Nurses & CNAs Work in Skilled Nursing Facilities
A skilled nursing facility is an in-patient housing option that provides rehabilitation and medical treatment. A skilled nursing facility is staffed with licensed nurses around the clock, including registered nurses (RNs), licensed practical nurses (LPNs), and certified nursing assistants (CNAs).
In addition to these nursing professionals, managers in skilled nursing facilities also hire professionals such as physical and occupational therapists, speech pathologists, audiologists, and dieticians.
Residents who stay in skilled nursing facilities may receive assistance with their healthcare regimen and activities of daily living (ADLs), 24-hours per day. There are specific regulations in place that govern what skilled facilities can and cannot do.
Skilled nursing facility services can be quite expensive, but private healthcare insurance or Medicare/Medicaid usually covers, at least in part, the cost for a stay at a skilled nursing facility. Patients who are in skilled nursing facilities are expected to only be there temporarily, which is in contrast to patients in nursing homes or traditional long-term care settings which are seen as permanent living arrangements that are appropriate for people who are in need of custodial care around the clock.
Where Does a Skilled Nursing Healthcare Professional Work?
Skilled nursing facilities (SNFs) can sometimes be confused with nursing homes. One of the reasons for this is that a lot of nursing homes have skilled nursing units within them. A skilled nursing unit may also be a wing or a unit that is part of a larger medical complex, such as a hospital or other healthcare facility.
What Do Nurses & CNAs Who Work in Skilled Nursing Do?
A skilled nursing facility is often used as a temporary solution for a patient who might not be able to stay in the hospital for longer, but who needs some extra assistance for a couple of weeks. Nurses and CNAs who pick up PRN jobs in skilled nursing settings help with a variety of activities, including:
Personal care activities, such as dressing or bathing
Medication administration and management
Memory care routines that can provide individualized treatment for patients with Alzheimer's Disease, dementia, or other related illnesses
General assistance during meals and social activities
Exercise opportunities and general wellness programs
Physical or occupational therapy exercises and activities
Communication with family members to address the resident's evolving level of needs and to keep them informed of any emergencies
What Qualities are Essential to Work in Skilled Nursing
Nurses who work in skilled nursing facilities spend a lot of time working with people of the geriatric population. In order to provide the best quality of care to these patients, a nurse must be very empathetic and passionate with the elderly. Nurses and CNAs in skilled nursing facilities must be quick on their feet and able to multitask, as these settings are often very busy for PRN nurses and CNAs.
Recommended Certifications for SNF Nurses & CNAs
Registered nurses serious about a career in assisted living may look at furthering their education in this nursing specialty. If this is you, you might be interested in earning the Certified Rehabilitation Registered Nurse (CRRN) certification that can help you prove your dedication to knowledge in the field and can give you a competitive edge in your professional portfolio with Nursa™. Additionally, most hospitals and surgery centers require a BLS (Basic Life Support) certification. Other certifications may be required or shown preference.