LPN job in American Fork, Utah | $42.14/hr | Assisted Living
Estimated total pay
$337.12
Description
Lpn would be required to pass medications, report low medications and keep medications organized, sanitize med stations and help cna where needed after focusing on medications.
Facility name
Bel Aire Senior Living
Facility address
1088 E 390 S, American Fork, UT, 4003
This job has been filled and is no longer available.
Things move fast around here. Here are some similar jobs that are close to you
Shifts (1)
Dec 11th 2021
06:00 - 14:00
More LPN Jobs Near American Fork, UT
Nursa™ Connects RNs, LPNs, and CNAs to Jobs in Utah
Nurses and assistants who live or work in the state should have direct access to local part-time and per diem jobs in Utah. Healthcare facilities with desperate staffing needs should have a quick and simple way to access the per diem RNs, LPNs, and CNAs they need to fill these vacant nursing shifts. A nurse staffing solution is needed that puts PRN nursing jobs in front of the eyes of willing medical professionals in the local community ready to take on the work.
Nursa™ is that connection. Healthcare facilities in Utah post high-paying RN, LPN, and CNA jobs. Native and local travel nurses and assistants looking to help the community and make great money while they're at it pick up these shifts right from the palm of their hand using our nurse agency app.
Simplify Your Life. Use Nursa™ to Find CNA, LPN, and RN Jobs
Nursa™ is not a typical travel nurse agency. Nursa™ is the future of nurse staffing and a transparent solution that puts the right nurses in the places – at the right times.
Our recruiters, team members, and support staff are here to help you make it through each shift. Medical professionals are empowered with Nursa™ to advance their healthcare careers and pick up jobs directly from employers within the nursing agency app.
Clinicians appreciate the transparency provided by our PRN nurse app which allows you to see real jobs for registered nurses (RNs), licensed practical nurses (LPNs), and certified nursing assistants (CNAs) in real-time. Talk directly with employers using the chat interface and get the information you need on part-time and PRN nursing shifts. Click here to learn the difference between part-time and PRN nursing.
Upload and verify your nursing license, any specialization or training certificates, and share them securely and directly with potential employers within the secure digital portfolio. Nursa™ is well-established among the medical facility community in Utah. Want to learn more about our nurse agency app? Visit our About Us Page.
A Little History Behind the State of Utah
Hard work. Harmony. Order. Utah's nickname the "Beehive State" stands for these core principles. In 1847, settlers in the Salt Lake Valley selected the beehive as a symbol of the community effort of harmony, hard work, and order that would be required to produce sweet results of a flourishing life. Many Utahns today may not know the history of the symbol of the beehive, but it fits, nonetheless. These values have helped make Utah the inviting and prosperous place it is today.
Medical Professionals Love Life in Utah: Here's Why
Thriving towns. Beautiful landscapes. Bustling cities. Happy friendly communities. Utah has many different great places to live and work. These communities and cities have employment opportunities for medical professionals.
Utah is safe. Utah has a very low violent crime rate and the third-lowest poverty rate among the other United States. Medical professionals feel safe living and working in Utah communities.
Utah outdoors is fun and gorgeous. This state is home to five national parks where the opportunities for hiking, horseback riding, biking, and kayaking abound. Explore the Arches National Park that boasts awe-inspiring arches of Moab or the red rock and lush forest of Bryce Canyon National Park.
If you pick up a job in Utah during the wintertime, spend your downtime outdoors! An average 48-inches of snow per year blankets this beautiful state. Skiing. Snowboarding. Snowshoeing. These activities will become part of your winter weekend adventures if you pick up a nursing job in Utah.
Employment in Utah is secure. Utah statistically has a lower unemployment rate than the national average. Utah has risen in status over the years to be a state known for attracting young professionals, also in creative professions. It is home to the world-renown independent film festival, the Sundance Film Festival. It's this reason that so many RNs, LPNs, and CNAs find high-paying jobs in this state.
Utah Has Public Transportation. Utah has commuter train services, buses, and an ever-expanding light rail system. Get to work or other cities easily. During ski season, special ski buses run routes to all four of the Salt Lake resorts, Powder Mountain, and Snowbasin.
Utah Taxes Aren't Tricky. Local travel and per diem nurses can easily get anxiety worrying about loopholes and thresholds when it comes to tax considerations. Not in Utah. Utah taxes are easily understood because they are a flat-tax state. That means that no matter your income, your tax rates will be the same as everyone else's. No thresholds. No increased tax rate because you make more money. Property taxes are low. Estate taxes are non-existent. Simplicity helps make PRN or local travel nurse tax considerations seem much less overwhelming in Utah.
Find CNA, LPN, and RN Jobs Near You with Nursa™
Nursa™ helps you find high-paying RN, LPN, and CNA jobs in Utah close to you. Nursa™ connects RNs, LPNs, and CNAs to clinical jobs in real-time. Once you've registered, created a professional profile, and verified your license and certifications in your secure professional portfolio, you can search through job postings that are available in real-time.
Are you looking for 8-hour shifts? 12-hour shifts? Create your own work schedule that fits the demands of your busy life with our nurse agency app. Whether you are looking to supplement your full-time job with some additional per diem nursing shifts or create a full-time career out of PRN nursing, both are within your grasp with Nursa™. Advance your nursing career today.
Learn Why Nurses & CNAs Choose to Work in Assisted Living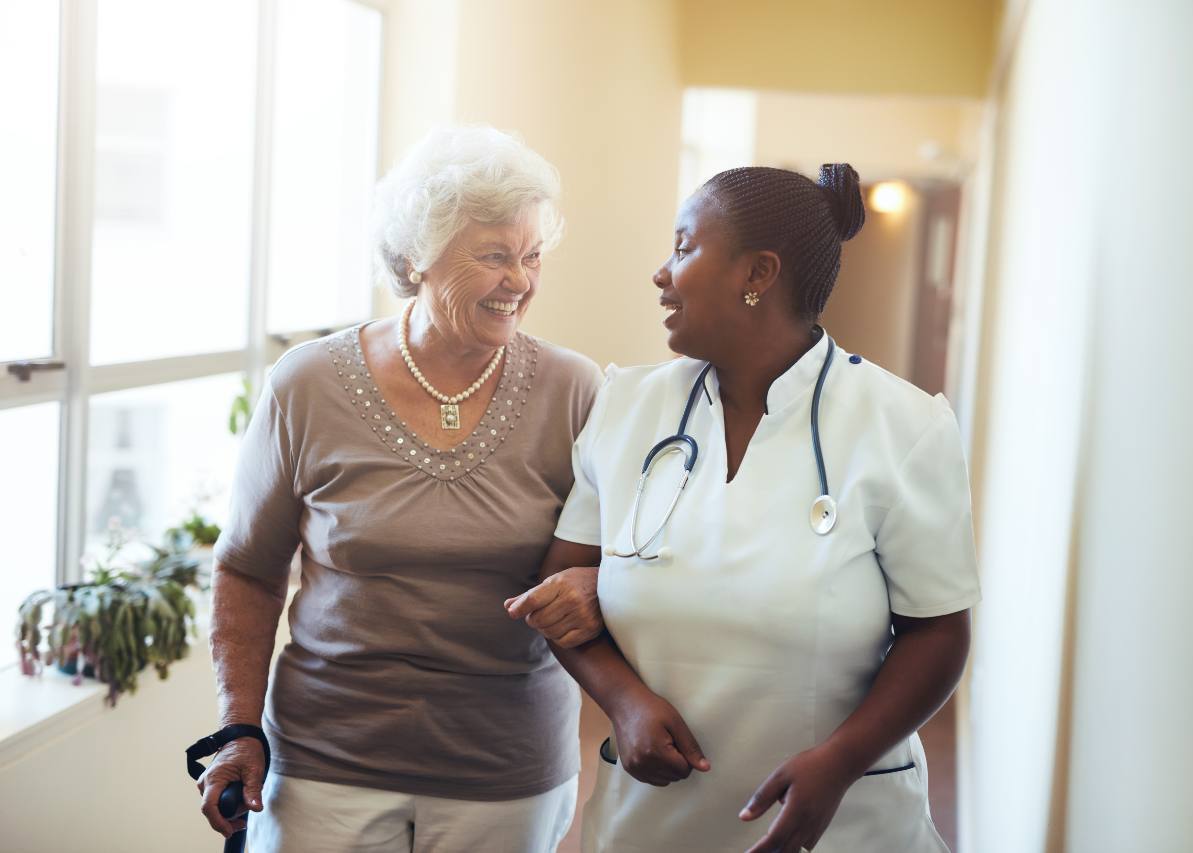 Assisted living facilities are long-term care centers for elderly individuals or patients with disabilities. As the name implies, assisted-living facilities are appropriate only for those people who require a minimal amount of assistance with their activities of daily living (ADLs).
Assisted living is a long-term care option that can help the elderly during their transition to a new phase in life in which they require help with the management of their personal health and/or ADLs.
Nurses, both registered nurses (RNs) and licensed practical nurses (LPNs), certified nursing assistants (CNAs), and other healthcare professionals provide 24-hour supervision in assisted living facilities and various levels of personal and medical services for residents.
As the baby boomer population continues to age, the demand for more long-term facilities continues to grow. As a result, many assisted living facilities are dealing with staffing shortages and increasingly turning to nurse staffing solutions to fill those workplace shortages with PRN nursing jobs.
Where Does an Assisted Living Nurse or CNA Work?
Assisted living facilities (ALFs), are one of the fastest-growing housing options for senior citizens in the United States. These healthcare facilities can be standalone units that only house residents who require a minimal level of assistance, or, these places are units connected to entire complexes that are either long-term care facilities, hospitals, or other healthcare centers.
What Does an Assisted Living Nurse Do?
Nursing homes and hospitals provide higher acuity levels of care than what you find in an assisted living facility. Nurses and CNAs who pick up PRN jobs in assisted living settings help with a variety of activities, including:
Personal care activities, such as dressing or bathing
Medication administration and management
Memory care routines that can provide individualized treatment for patients with Alzheimer's Disease, dementia, or other related illnesses
General assistance during meals and social activities
Exercise opportunities and general wellness programs
Physical or occupational therapy exercises and activities
Communication with family members to address the resident's evolving level of needs and to keep them informed of any emergencies
Essential Qualities of a Successful Assisted Living Nurse
Nurses who work in assisted living facilities spend a lot of time working with people of the geriatric population. In order to provide the best quality of care to these patients, a nurse must be very empathetic and passionate with the elderly. Patience is a virtue when working with this population, although as a nurse or CNA in this specialty, that is not always an option. Therefore, nurses who work in assisted living must be able to roll with the punches and work well independently.
Recommended Certifications for Assisted Living Nurses
Registered nurses serious about a career in assisted living may look at furthering their education in this nursing specialty. If this is you, there is a National Assisted Living Manager Certification Course (NALMCC) provided by the American Caregiver Association that can help you prove your dedication to knowledge in the field and can give you a competitive edge in your professional portfolio with Nursa™. Additionally, most hospitals and surgery centers require a BLS (Basic Life Support) certification. Other certifications may be required or shown preference.