LPN job in Garden City, Idaho | $38.93/hr | Assisted Living
Estimated total pay
$467.14
Description
Please park on far side of building and come to front door to be temperature checked. Once inside, please report to lead med tech
Facility name
Garnet Place
Facility address
5815 Coffey St, Garden City, ID, 83714
Facility number of beds
99
This job has been filled and is no longer available.
Things move fast around here. Here are some similar jobs that are close to you
Shifts (1)
Jul 27th 2021
16:00 - 04:00
More LPN Jobs Near Garden City, ID
Mountains. Rivers. Gems. Learn Why Healthcare Workers Love Idaho
Mountain ranges covered in snow in the wintertime. Canyons with winding trails perfect for long hikes. Nature lovers and adventure enthusiasts should consider RN, LPN, and CNA jobs in Idaho.
Natives to Idaho are already familiar with the beauty and job opportunities found in Idaho. Many agency/local travel/part-time/per diem nurses and assistants pick up jobs in Boise, Twin Falls, Coeur d'Alene, Idaho Falls and other cities within the Gem State. With Nursa™, medical professionals who live nearby healthcare facilities can pick up jobs from the app, as can nurses and assistants who live further away from the healthcare facilities.
Nursa™ is Your Direct Connection to Jobs at Healthcare Facilities in Idaho
Connect with real employers at healthcare facilities in Idaho in real-time with Nursa™. You can easily download the app within minutes and start searching for jobs for registered nurses (RNs), licensed practical nurses (LPNs), and certified nursing assistants (CNAs) in Idaho at various healthcare facilities within the state.
Local nurses who already live in the state of Idaho and nurses from neighboring states such as Utah, can directly apply for part-time and PRN nursing jobs using the nurse agency app. Healthcare facilities in Idaho post many high-paying jobs for medical professionals. These jobs are posted in real-time which gives all clinicians using Nursa™ fair access to the positions.
You don't have to go to multiple facilities and complete several applications to land RN, LPN, and CNA jobs in Idaho. With Nursa™, you complete your work resume and upload all certifications into the digital portfolio which is shared with employers when you apply for a job.
One place. One application. One click. It's simple. Download Nursa™ today to access nearby part-time and per diem nursing jobs in Idaho. Keep reading to learn more about Idaho, why it is unique, and what nurses and assistants love about this state.
Part-Time and PRN Healthcare Professionals Love Working in Idaho
Our support team at Nursa™ helps place RNs, LPNs, and CNAs in healthcare facilities throughout the state. A common trend in Idaho is that medical professionals who pick up these jobs often return to the same facilities for repeat assignments. Idaho is not only home to a wonderful network of high-quality healthcare jobs, but it's also a place of pure serenity and natural beauty.
Idaho is known as the "Gem" state for good reason. Nearly every type of gemstone known to man can be found within this state. Per diem nurses and assistants who pick up jobs in Idaho can explore different mountain ranges and rivers on their days off work.
Idaho is Home to Many Natural Attractions
You will find many different natural attractions in Idaho, including:
Nurses and assistants will find more than just natural scenery to explore in Idaho, as many healthcare professionals will find themselves picking up jobs in Boise. The capital city is sprawling with cultural hotspots, artsy venues, world-class shopping, all types of dining, and bustling nightlife. There are other major cities in Idaho offering local travel nursing, part-time, and PRN jobs, such as Twin Falls, Coeur d'Alene, and Idaho Falls.
You will love the fact that no matter which city or location you end up working in Idaho, you will find that you are just moments away breathtaking exploration activities. Natural beauty surrounds you no matter where you are in the state. Activities are abundant in Idaho, and include things like:
Biking
Hiking
Horseback riding
Whitewater rafting
Dog sledding
Rock climbing
Skiing
Snowboarding
Nurses and assistants who pick up jobs in Idaho during the wintertime should pay a visit to Ketchum. Locals and travelers alike love this popular resort town that's a picture-esque winter wonderland during the snowy months. You can also relax and unwind at the famous Hot Pools in Idaho during one of your days off. Be sure that you check out Lewiston while you're in Idaho, because it is the farthest inland Pacific seaport in the United States and a great place to visit.
Find RN, LPN, and CNA Jobs in Idaho Today
Land high-paying jobs at healthcare facilities in Idaho today. Download Nursa™ and register your profile. You can immediately start searching for jobs in Boise, Twin Falls, or any other state in Idaho and apply for shifts right away. Download the nurse agency app today to begin working in as little as 48 hours.
Learn Why Nurses & CNAs Choose to Work in Assisted Living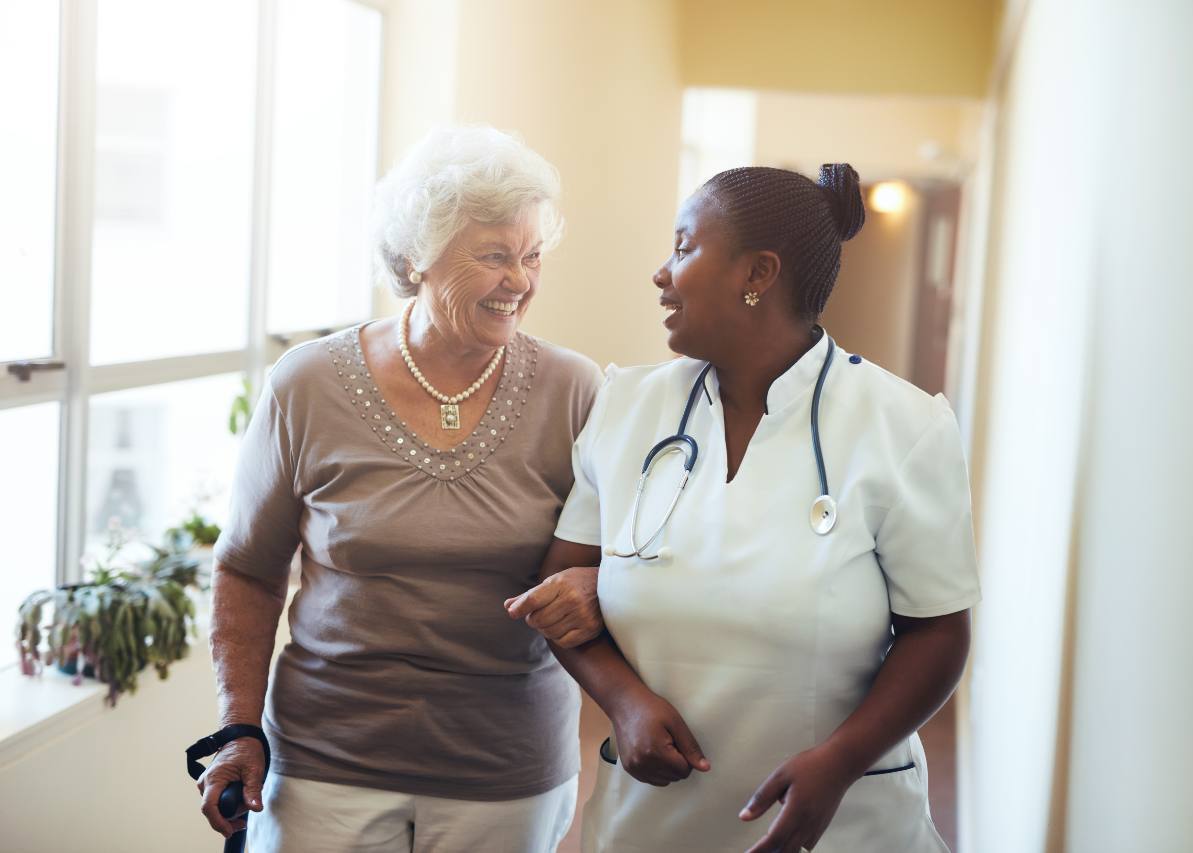 Assisted living facilities are long-term care centers for elderly individuals or patients with disabilities. As the name implies, assisted-living facilities are appropriate only for those people who require a minimal amount of assistance with their activities of daily living (ADLs).
Assisted living is a long-term care option that can help the elderly during their transition to a new phase in life in which they require help with the management of their personal health and/or ADLs.
Nurses, both registered nurses (RNs) and licensed practical nurses (LPNs), certified nursing assistants (CNAs), and other healthcare professionals provide 24-hour supervision in assisted living facilities and various levels of personal and medical services for residents.
As the baby boomer population continues to age, the demand for more long-term facilities continues to grow. As a result, many assisted living facilities are dealing with staffing shortages and increasingly turning to nurse staffing solutions to fill those workplace shortages with PRN nursing jobs.
Where Does an Assisted Living Nurse or CNA Work?
Assisted living facilities (ALFs), are one of the fastest-growing housing options for senior citizens in the United States. These healthcare facilities can be standalone units that only house residents who require a minimal level of assistance, or, these places are units connected to entire complexes that are either long-term care facilities, hospitals, or other healthcare centers.
What Does an Assisted Living Nurse Do?
Nursing homes and hospitals provide higher acuity levels of care than what you find in an assisted living facility. Nurses and CNAs who pick up PRN jobs in assisted living settings help with a variety of activities, including:
Personal care activities, such as dressing or bathing
Medication administration and management
Memory care routines that can provide individualized treatment for patients with Alzheimer's Disease, dementia, or other related illnesses
General assistance during meals and social activities
Exercise opportunities and general wellness programs
Physical or occupational therapy exercises and activities
Communication with family members to address the resident's evolving level of needs and to keep them informed of any emergencies
Essential Qualities of a Successful Assisted Living Nurse
Nurses who work in assisted living facilities spend a lot of time working with people of the geriatric population. In order to provide the best quality of care to these patients, a nurse must be very empathetic and passionate with the elderly. Patience is a virtue when working with this population, although as a nurse or CNA in this specialty, that is not always an option. Therefore, nurses who work in assisted living must be able to roll with the punches and work well independently.
Recommended Certifications for Assisted Living Nurses
Registered nurses serious about a career in assisted living may look at furthering their education in this nursing specialty. If this is you, there is a National Assisted Living Manager Certification Course (NALMCC) provided by the American Caregiver Association that can help you prove your dedication to knowledge in the field and can give you a competitive edge in your professional portfolio with Nursa™. Additionally, most hospitals and surgery centers require a BLS (Basic Life Support) certification. Other certifications may be required or shown preference.