LPN job in Reno, Nevada | $54.23/hr | Skilled Nursing
Estimated total pay
$650.74
Description
Rn or LPN. If new, obtain login credentials from CNM Joel 775-997-5353
Facility name
Advanced Health Care of Reno
Facility address
961 Kuenzli St, Reno, NV, 89502-1160
Facility number of beds
42
This job has been filled and is no longer available.
Things move fast around here. Here are some similar jobs that are close to you
Shifts (1)
Jul 24th 2021
06:00 - 18:00
More LPN Jobs Near Reno, NV
RN job in Henderson, Nevada | $49.94/hr | Long Term Acute Care Hospital
RN
Long Term Acute Care Hospital
Open
Henderson, NV
RN with LTACH | Long Term Acute Care Hospital certification needed to fill a 12/hr shift on Oct 3rdfrom 06:45 - 19:15 . This job is at Horizon Specialty Hospital of Henderson at 8550 S Eastern Ave - Henderson, NV, 89074. this Per Diem shift pays $49.94/hr for a total of $624.25.
RN job in North Las Vegas, Nevada | $49.20/hr | Long Term Care
North Las Vegas, NV
RN with LTC | Long Term Care certification needed to fill a 12/hr shift on Oct 3rdfrom 06:00 - 18:00 . This job is at Mission Pines Nursing & Rehabilitation Center at 2860 E Cheyenne Ave - North Las Vegas, NV, 89030-4234. this Per Diem shift pays $49.20/hr for a total of $590.40.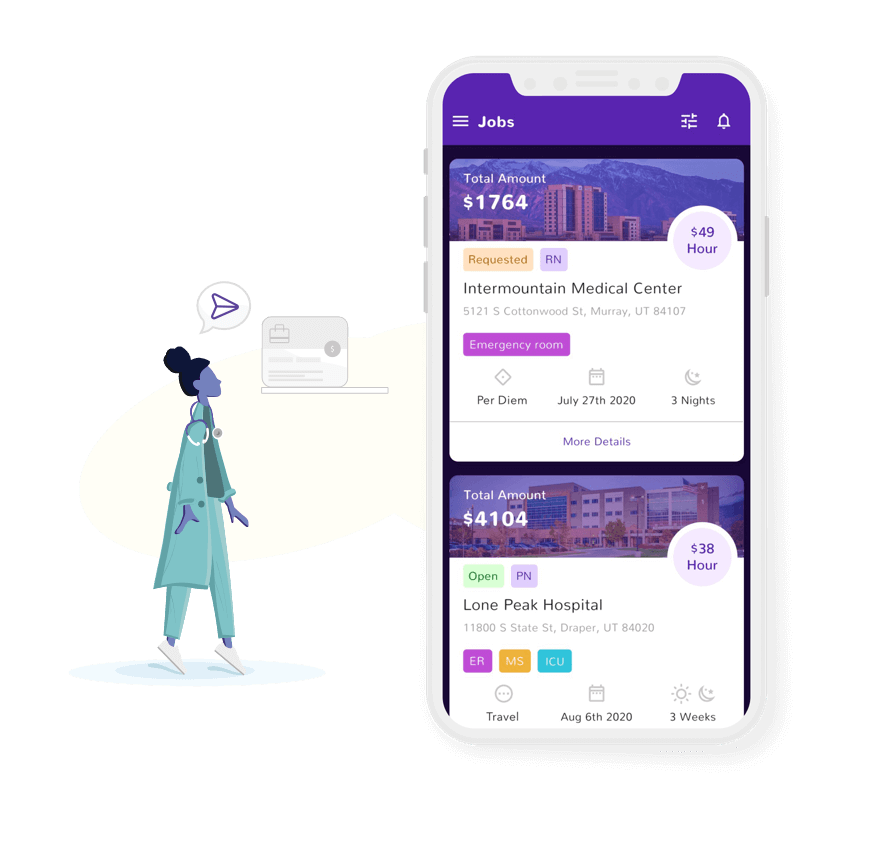 Nursa™ Connects Nevada Facilities with PRN Nurses & CNAs
This western state is bordered by Oregon to the northwest and Idaho to the northeast, California to the west, Arizona to the southeast, and Utah to the east. This strategic location makes Nevada an interesting state to explore and a pleasant one to work in.
Nevada is known for its steady economy and climbing job market which shows growth each year. As such, many healthcare managers in Nevada are searching per diem registered nurses (RNs), licensed practical nurses (LPNs), and certified nursing assistants (CNAs) to pick up jobs at local healthcare facilities. Keep reading to learn more about why clinicians enjoy picking up per diem jobs in the state of Nevada and also a little more about what PRN means.
What Does PRN Mean?
The per diem or PRN medical abbreviation is short for the Latin phrase "pro re nata", which means "if necessary" or "as needed". CNAs, LPNs, & RNs who pick up per diem jobs in Nevada do so by the shift and on an "as-needed" basis for the healthcare facility. Visit our blog, Nursing PRN Work and Part-Time: What's the Difference? to learn more about PRN nursing jobs and how to find high-paying jobs near you with our per diem nurse app.
What's to Love About Working CNA, LPN, & RN Jobs in Nevada?
Clinicians are not the only professionals that find themselves drawn to the things Nevada has to offer. Besides the healthcare industry, there are other booming fields drawing professionals to jobs in this state, including those in the mining, construction, and education industries.
Culturally speaking, Nevada offers a unique blend of Western culture and a mesh of influence from the several Native American tribes local to this state, including the Paiute, Washoe, and Shoshone tribes.
Nevada is known for gambling and you can do so pretty much anywhere within the state. From slot machines inside of grocery stores and gas stations to the famous Las Vegas strip, if you enjoy gambling, you will find many opportunities to do so throughout the entire state of Nevada.
Get Outside and Enjoy the Outdoors On Your Days Off Work
Nurses and CNAs who pick up per diem jobs in Nevada can get outside and enjoy some breathtaking scenery. From the luscious forests to the impressive mountains and sprawling deserts, Nevada has amazing landscapes all within a day's drive. The following are some of the natural attractions you should be sure to visit while working a PRN job in Nevada:
Valley of Fire in Overton: this valley is full of amazing rock formations that make it one of the most incredible, scenic, and most-photographed locations in Nevada.
Lake Tahoe: this famous lake lies on the Nevada-California border and it is the highest elevated alpine lake in the United States.
Mount Rose Wilderness: this National Forest is located between Reno and Lake Tahoe. Mount Rose is the highest mountain in the county of Washoe within the Carson Range.
Apply for PRN Jobs from a Mobile PRN Nurse Staffing App
Are you interested in picking up per diem jobs for CNAs, LPNs, or RNs in Nevada? Download the mobile Nursa™ application today and apply for jobs near you from the palm of your hand.
Learn Why Nurses & CNAs Work in Skilled Nursing Facilities
A skilled nursing facility is an in-patient housing option that provides rehabilitation and medical treatment. A skilled nursing facility is staffed with licensed nurses around the clock, including registered nurses (RNs), licensed practical nurses (LPNs), and certified nursing assistants (CNAs).
In addition to these nursing professionals, managers in skilled nursing facilities also hire professionals such as physical and occupational therapists, speech pathologists, audiologists, and dieticians.
Residents who stay in skilled nursing facilities may receive assistance with their healthcare regimen and activities of daily living (ADLs), 24-hours per day. There are specific regulations in place that govern what skilled facilities can and cannot do.
Skilled nursing facility services can be quite expensive, but private healthcare insurance or Medicare/Medicaid usually covers, at least in part, the cost for a stay at a skilled nursing facility. Patients who are in skilled nursing facilities are expected to only be there temporarily, which is in contrast to patients in nursing homes or traditional long-term care settings which are seen as permanent living arrangements that are appropriate for people who are in need of custodial care around the clock.
Where Does a Skilled Nursing Healthcare Professional Work?
Skilled nursing facilities (SNFs) can sometimes be confused with nursing homes. One of the reasons for this is that a lot of nursing homes have skilled nursing units within them. A skilled nursing unit may also be a wing or a unit that is part of a larger medical complex, such as a hospital or other healthcare facility.
What Do Nurses & CNAs Who Work in Skilled Nursing Do?
A skilled nursing facility is often used as a temporary solution for a patient who might not be able to stay in the hospital for longer, but who needs some extra assistance for a couple of weeks. Nurses and CNAs who pick up PRN jobs in skilled nursing settings help with a variety of activities, including:
Personal care activities, such as dressing or bathing
Medication administration and management
Memory care routines that can provide individualized treatment for patients with Alzheimer's Disease, dementia, or other related illnesses
General assistance during meals and social activities
Exercise opportunities and general wellness programs
Physical or occupational therapy exercises and activities
Communication with family members to address the resident's evolving level of needs and to keep them informed of any emergencies
What Qualities are Essential to Work in Skilled Nursing
Nurses who work in skilled nursing facilities spend a lot of time working with people of the geriatric population. In order to provide the best quality of care to these patients, a nurse must be very empathetic and passionate with the elderly. Nurses and CNAs in skilled nursing facilities must be quick on their feet and able to multitask, as these settings are often very busy for PRN nurses and CNAs.
Recommended Certifications for SNF Nurses & CNAs
Registered nurses serious about a career in assisted living may look at furthering their education in this nursing specialty. If this is you, you might be interested in earning the Certified Rehabilitation Registered Nurse (CRRN) certification that can help you prove your dedication to knowledge in the field and can give you a competitive edge in your professional portfolio with Nursa™. Additionally, most hospitals and surgery centers require a BLS (Basic Life Support) certification. Other certifications may be required or shown preference.