Available Healthcare Facilities in Ogden, Utah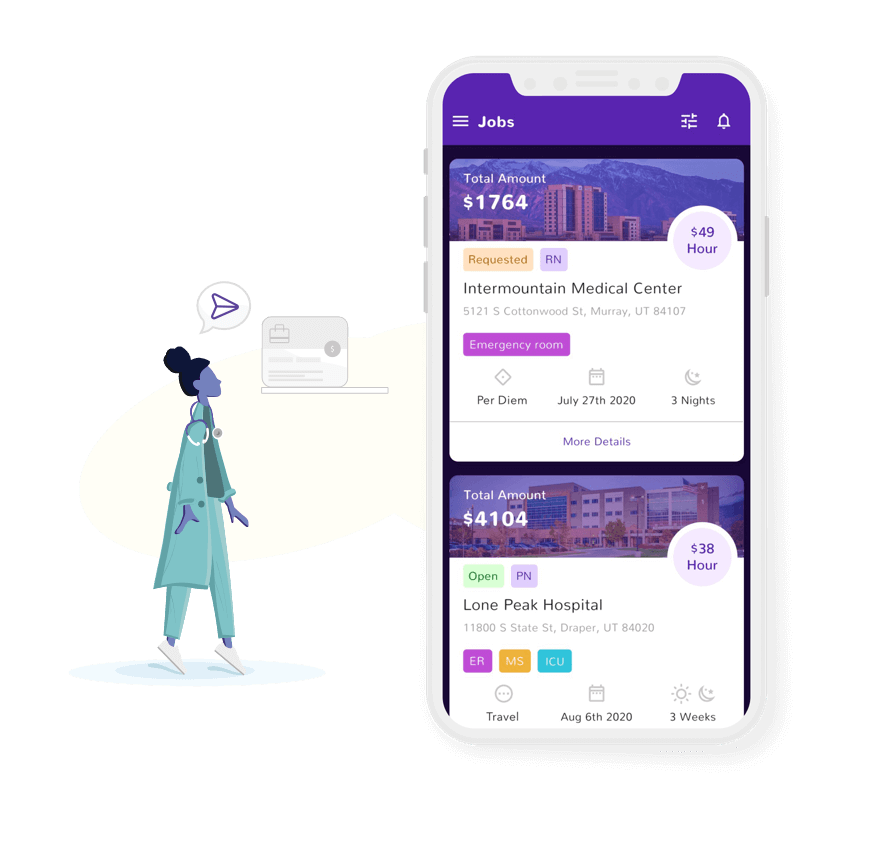 Let's Change How Facilities Fill PRN Jobs for RNs, LPNs & CNAs
Our focus is to bridge RNs, LPNs, and CNAs to healthcare systems and facilities that need PRN staff. We make the entire process from searching for jobs and shifts to applying for them easier than it's ever been before. Everything is done all from within our sleek smartphone application. Create, store, and share your professional digital portfolio. You can browse available shifts and jobs and apply for them directly. Ask questions of potential employers by using our chat interface. All in one place.
Facilities in Ogden, Utah need PRN employees now to help get testing done competently and quickly, to ensure appropriate staffing ratios are possible in hospitals and care facilities, and to allow for any stressed or quarantined permanent staff appropriate time off. We have COVID-19 jobs, PRN shifts, and part-time jobs available in real-time.
Nursa™ is connected with facilities in Ogden to bridge the gap between RNs, LPNs, and CNAs who are looking for PRN shifts, to the facilities who need PRN workers today. Download our application and get started right away.
See Why Our Healthcare Professionals Like to Work in Ogden, Utah
Ogden's town motto is "notoriously independent" and really, it fits. Ogden has a population of over 85,000 and while it might not be a huge city, it certainly has a lot to offer residents and visitors. So much so, that it doesn't matter the size. Nestled at the base of the Wasatch Mountain Range, it has two rivers that flow through it, the Ogden River and the Weber River.
Our clinicians enjoy skiing and summer activities at the resorts, hiking and mountain biking trails in the Watasch Mountains, scenic roadtrips, water sports including paddlesports in the Pineview Reservoir or the Causey Reservoir, delicious dining, community events, and more. Some of their favorite things to do include:
All Facilities in Ogden, Utah