Jobs
Nursing Jobs by License
Nursing Jobs by Specialty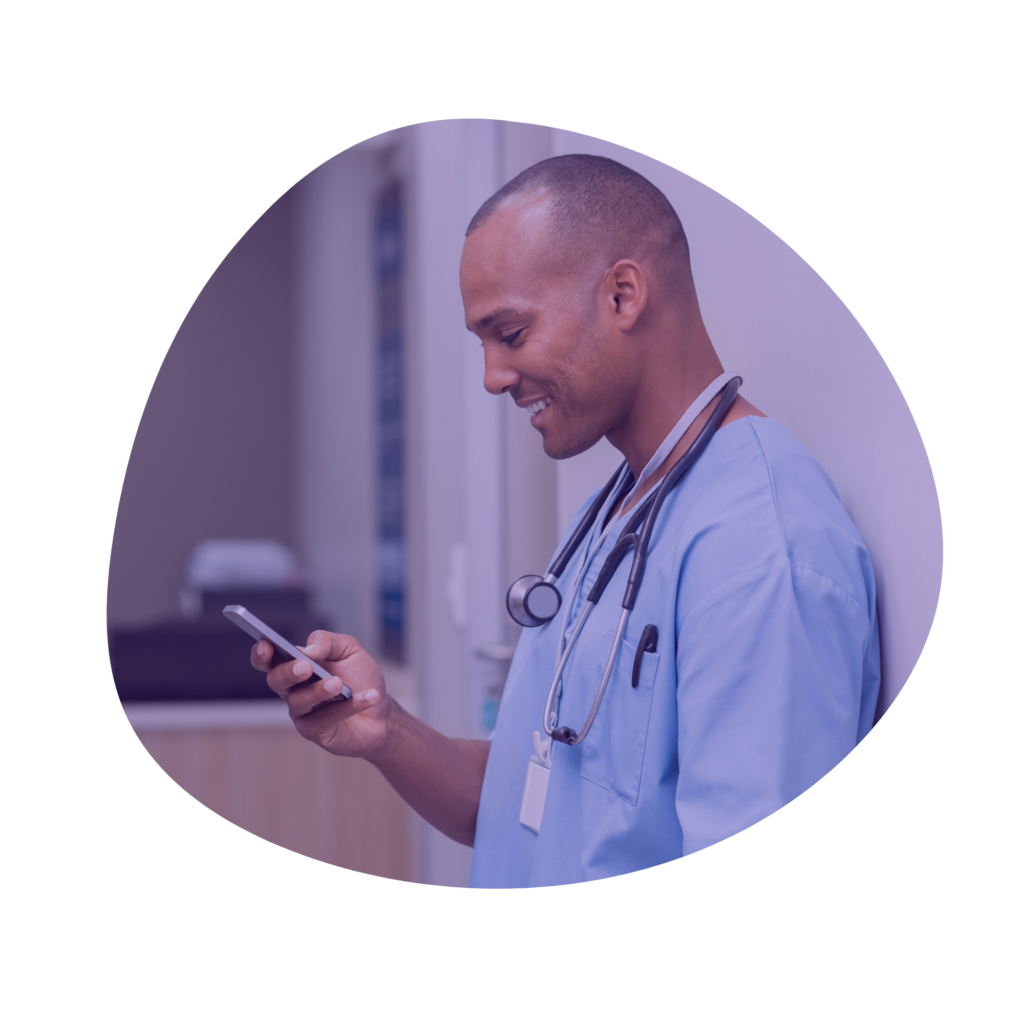 Nursa for Clinicians
Every day, facilities post their unscheduled nursing jobs to the Nursa marketplace. Once you've registered and your license has been verified, you'll be able to request jobs that fit your schedule. Pick up as many or as few shifts as you want!
RNs, CNAs, and LPNs connect to local facilities that are ready to fill shifts immediately. Nurses earn extra money (get paid weekly!), receive top pay, and enjoy flexible schedules filling local shifts.
Pay rates vary and depend on the state, the time of the shift (day, night, noc, weekend), COVID/non-COVID, and other factors. Rates are listed on each job or shift post, so you can take that into account as you select which shift you want to work.
Nursa for Facilities
Facility directors, schedulers, DONs, and administrators need quality nurses in real-time. Nursa allows them to post shifts for free (only pay for completed shifts!), as well as the ability to fill a nursing shift in under 15 minutes. Hiring local, qualified clinicians has never been easier, which means those responsible for staffing have the flexibility they need to provide quality patient care.
No long-term contracts are required. There are no staffing agencies standing in the middle of you and the nurses you want to hire. Healthcare staffing control is back where it belongs—in the hands of those who know the needs the best.
Nursa is ready to make it easy for DONs and other facility schedulers to get the quality help they need. Nursa can be an ideal way to connect per diem nurses with per diem nursing jobs.
Benefits of Per Diem Shifts
Per diem nurse shifts (also known as PRN shifts) are ideal for situations where there is a need for temporary nursing staff. Often, per diem nurse shifts are used when short-staffing occurs and the hospital or facility needs to schedule additional nurses for a short time. These shifts can also be used when permanent or contract staff members go on vacation or when personnel leaves. Per diem nurse shifts may also be used to bring on additional nursing staff when there is a high patient load.
Most per diem shifts allow nurses to have flexibility with their schedule because they can pick up extra hours as needed. These shifts are generally not used for permanent staff hiring; instead, per diem nurses are often only hired on as needed, and not for the long term. Note that PRN nursing shifts are different from per diem travel nursing or per diem international nursing. Because PRN nurses can be hired on when needed, per diem shifts tend to pay more than contract staff. Further driving higher pay (and labor costs) for PRN shifts is the fact that per diem nurses are generally paid per hour rather than per shift, and they often must have special certifications. Also, the pay can be higher for an urgent need, such as when a per diem nurse is needed at a moment's notice. In fact, PRN labor costs can be as much as 300% higher than contract nursing jobs.
Reasons Why Nurses Inspire the Nursa Team
1. Nurses use their skills to heal the sick.
Nurses' hands administer treatments to patients who can no longer manage their own care. It's nurses who provide a healing touch when people are weak and ill.
2. Nurses hold the hands of our loved ones when we cannot.
Sometimes family members are unable to be by the side of a sick loved one. In these cases, nurses provide care while family members are away. For example, when a child is in an accident, a nurse is watching over the injured child while parents rush to the hospital. When an elderly woman is dying and her family cannot be there with her, nurses feed and comfort her until she dies.
3. Nurses are there when life enters the world.
During childbirth, nurses are there to help the mother and her baby. Nurses give medication to relieve pain and provide coaching to the woman through labor. It is a nurse who first cleans and comforts a newborn baby upon its arrival in this world. Often, a nurse is the first person to touch a baby, even before its own parents do.
4. Clinicians do things other people don't want to do or are not capable of doing.
When it comes to bathing or providing personal care, it's necessary to treat the person with dignity and respect, despite the intimacy of the needed care. In some cases, a parent or grandparent may find it difficult for their grown child or grandchild to be their caregiver because of this intimacy, or the child may feel uncomfortable caring for their aging parent because of their relation to them. This is when nurses can make a huge difference to ensure that these intimate needs are met while making sure that both the patient and their children or family stay comfortable.
5. Nurses save lives.
Simply put, nurses save people.
While this is the last reason mentioned, it's certainly not the least important reason that nurses are so inspirational. They save lives, and that's a big deal. They run codes and administer life-saving medications; they perform chest compressions and give oxygen to patients who have trouble breathing. Nurses are saving lives every day in multiple ways, and you never know when one of those lives could be a loved one or even your own. We're inspired by nurses, we appreciate their services, and we give them the utmost respect and appreciation.
Nurses, Thank You!
Thank you for taking care of the most vulnerable patient care is the beating heart of everything we do.
The Nursa team is here during every step of the journey for each job. We support our clients and talent, the facilities, and the caregivers, throughout the entire staffing fulfillment process. We're changing the world, shift by shift, and transforming the healthcare staffing industry. Each one of our team members, and more importantly, nurses and facility directors, make this happen. Thank you for trusting Nursa with your staffing and PRN shift needs.