Available Healthcare Facilities in Sandy, Utah
Facilities in Sandy Connect with RNs, LPNs, and CNAs Through Nursa™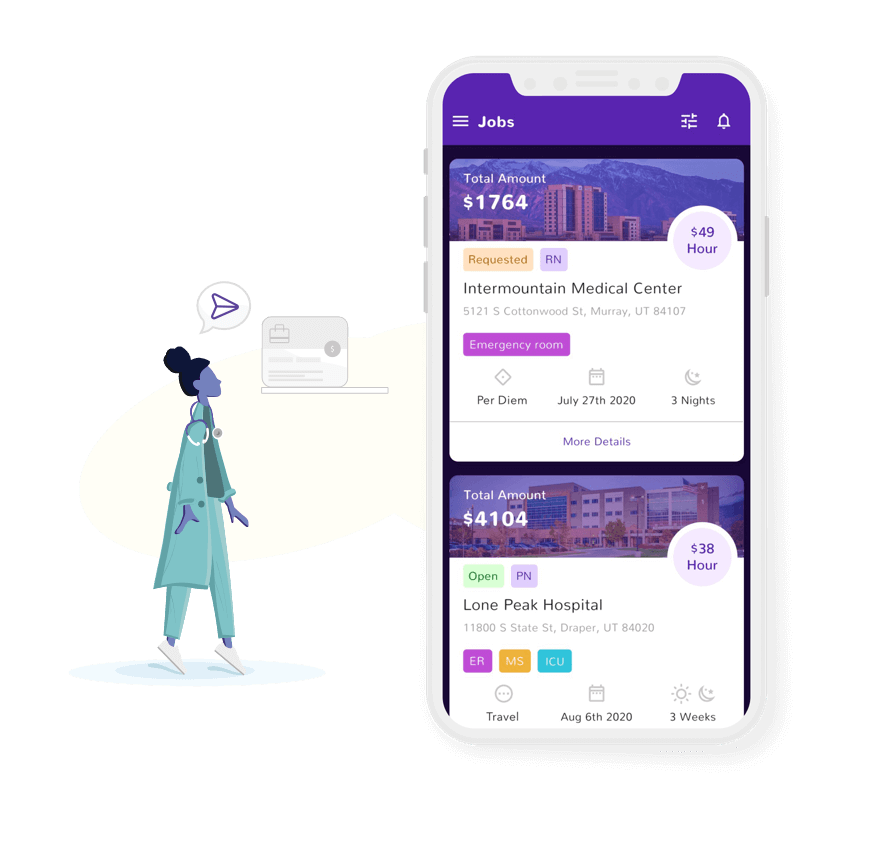 Healthcare is a demanding and fast-paced industry. Changes come every single day. You need to stay focused on what you need to do – which is to provide the best care possible for patients. The last thing you need is a big headache when it comes to finding nursing jobs in Moscow, Idaho.
On-demand nurse apps have changed the industry for healthcare facilities and registered nurses (RNs), licensed practical nurses (LPNs), and certified nursing assistants (CNAs). Facility managers are able to get the PRN nursing staff they need in the door, often on a last-minute basis, and clinicians can pick up per diem nursing shifts nearby – all with the convenient smartphone app, Nursa™.
Utah is a Coronavirus "Red Zone"
The entire world has felt the effects of the coronavirus, however, Utah has been hit particularly hard by this pandemic.
On July 17 a report was sent to the White House identifying Utah as one of the red zones for COVID-19. Since reopening, Utah has seen an alarming and steady rise of confirmed COVID cases among its residents. The report indicates that 3 counties are responsible for 74% of the new cases, and among those counties is Salt Lake County, currently with over 16,000 cases.
While numbers rise, the use of masks for the state is not mandatory. Utah Hospital Association has publicly asked that masks be mandated as they have a rising concern that the numbers of patients needing medical treatment could become unsustainable, for more information follow this link.
Nurses and CNAs Love Picking Up Jobs in Sandy
Sandy, Utah is part of the Salt Lake City Metropolitan area and is a suburb with a population of over 85,000. It's the perfect place to live when you want the benefits of big-city entertainments but want more space and security for your home life.
Check out the exhibits at the Mountain America Expo Center, or watch men's and women's professional soccer games at the Rio Tinto Stadium, go shopping at South Town, explore the restaurant scene, go skiing at a nearby resort, or wander around one of 32 parks.
Sandy is a great place to both live and work. A shortlist of some of the fun things to do in Sandy, includes the following:
Nursa™ Connects Clinicians to Jobs in Sandy, Utah Facilities
Nurses and CNAs use our straightforward smartphone application to find jobs in Sandy that meet their needs. PRN work is especially important now as facilities struggle to meet their staffing demands. RNs, LPNs, and CNAs who like to arrange their work life around their personal life, use Nursa™ to choose the PRN shifts that fit in their schedule.
Our smartphone app is a space for you to create a professional digital portfolio that you can securely save and share with potential employers directly. Browse jobs, and ask questions all within the app. Download it today and get started, we've got jobs and PRN shifts available right now.
All Facilities in Sandy, Utah